Emprise, Frontière/ligne/tracer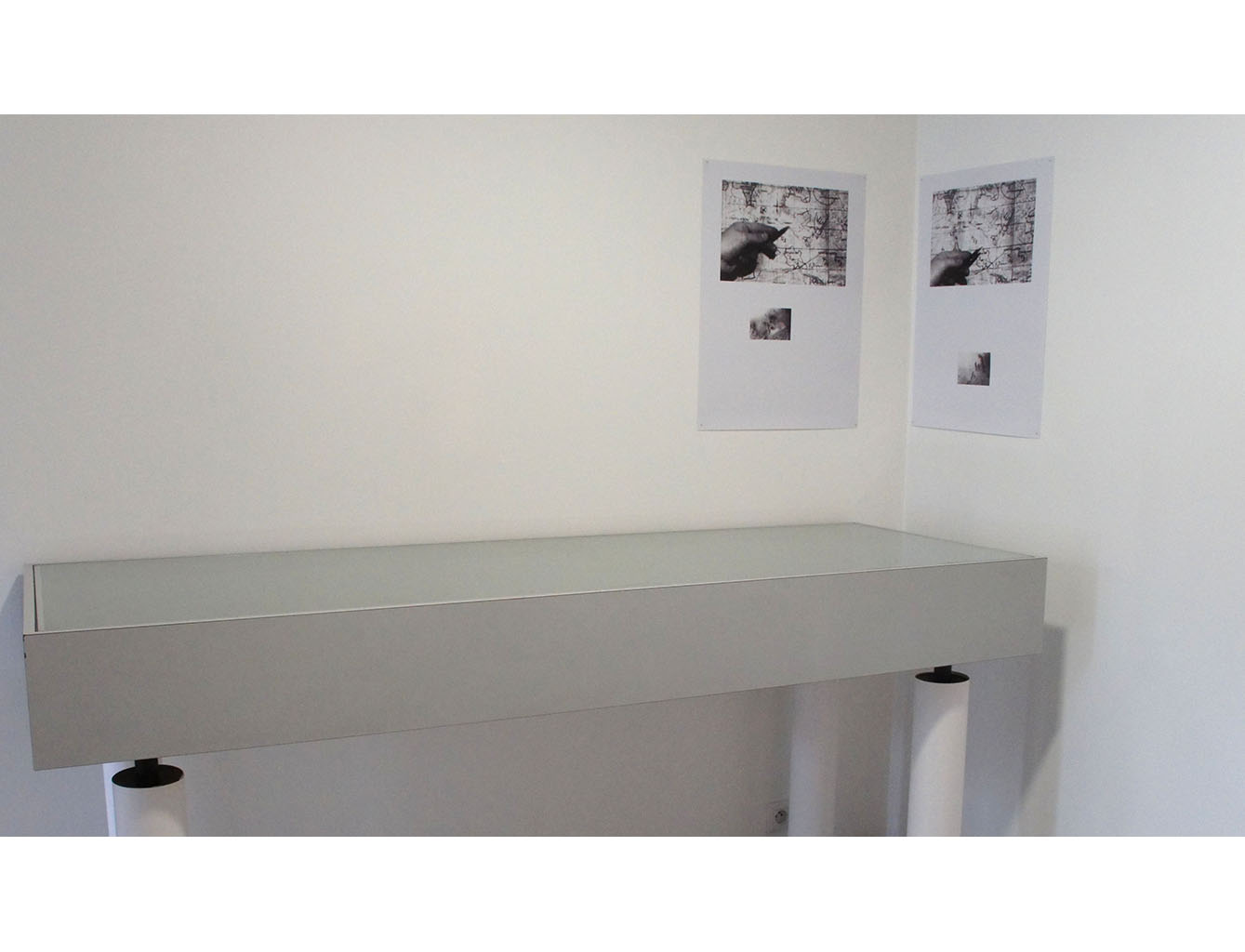 Emprise, Frontière/ligne/tracer, 2012
Production La BF15 / Remerciements : ECPAD (Etablissement de Communication et de Production Audiovisuelle de la Défense)
Vue d'exposition : La BF15, Lyon, 2012, crédit photo: Aï Kitahara

Hold, Border/line/draw, 2012
Production : La BF15 / Thanks to : ECPAD (Etablissement de Communication et de Production Audiovisuelle de la Défense)
Installation view : LA BF15, Lyon, 2012, photo credit: Aï Kitahara



Cet ensemble d'images et d'objets s'est constitué autour de la question de la main et de son rapport au territoire, dans le dessin des cartes ou dans le pouvoir de désigner, d'ordonner et d'avoir une emprise sur la réalité matérielle. Les images réunies ici sont extraites de films d'archives sur la présence militaire française durant la guerre de Corée, guerre qui a donné lieu à la frontière – au niveau du 38ème parallèle – que nous connaissons à présent entre le Nord et le Sud. La ligne du front qui s'est souvent déplacée entre les deux camps ennemis a tout d'abord été un tracé décidé par l'état major précipitant les cendres de la destruction et le sang des armées.

Les douilles apparaissent comme les enveloppes vides des balles au même titre que la main est la forme en négatif de son emprise. Entre la main et la chose dont elle se saisit, il y aurait toujours une sorte de limite, une ligne qui ne cesse de se déplacer entre mon intention et le résultat de cette intention, entre la représentation que je me fais des choses et le réel. Aussi est-il présenté deux sortes d'images, l'une dessinée, révélant l'intentionnalité et faisant intervenir le travail de la main, l'autre photographique, l'enregistrement mécanique du réel. Aussi quand il est question de la main, il est également question de l'œil. Ce que je perçois, ce que je vois, est ce sur quoi je vais agir. Les négatifs percés de balles n'ont pas été ici impactés par la lumière provoquant normalement une réaction chimique mais par l'œil du tireur qui a visé leur surface. La dimension du toucher, de l'emprise est parfois déjà contenue dans celle du visible.


This set of images and objects was formed around the question of the hand and its relation to the territory, in the drawing of cards or in the power to point, to order and get a grip on the material reality. The images collected here are taken from archived films on the French military presence in the Korean War, a war that led to the border - at the 38th parallel - that we now know between North and South. The frontline that often moved between the two enemy camps was firstly a line determined by the major state, rushing armies into ashes of destruction and blood.

Sockets appear as bullets empty envelopes in the same way as the hand is the negative form of its grip. Between the hand and the thing she grabs, there would always be some kind of limit, a line that is constantly moving between my intention and the result of this intention, between the representation that I make of things and the reality. It is therefore presented in two kinds of images, one drawn, revealing intentionality and involving the work of the hand, the other photographic, mechanical recording of reality. So when it comes to the hand, it is equally about the eye. What I perceive, what I see, is what I will act on. Here, negatives drilled by bullets were not affected by the light normally causing a chemical reaction, but by the eye of the shooter who targeted their surface. The dimension of the touch, the grip is sometimes already contained in the visible.